What to do on Cape Clear Island
Things to do and see on a trip to this unique location
Get adventurous on Cape Clear Island
Cape Clear Island – Oileán Chléire is an outstanding area of natural beauty, combining its Mediterranean-like micro-climate with a rich history of ancient and Medieval relics to seal its place as one of Ireland's top tourist destinations.
Cape Clear's unique natural features means its waters are safe for kayakers and snorkellers in almost any weather. You can carry your own kayak on Cape Clear Ferries for just €2 per kayak or you can hire kayaks on the island.
Many simply explore the island's sea caves – including a magnificent sea arch – while the more experienced can paddle across the water to nearby islands.
Cape Clear Island is also well known as a destination for those hoping to spot whales, dolphins, basking shakes and other sea life. You can hire a private charter from Cape Clear Ferries to try and catch a glimpse of a range of species including porpoises, seals and occasional leatherback turtles.
There are various beaches and piers on Cape Clear which are suitable for swimming, with the most popular being the sandy beach on North Harbour near the docking point for Cape Clear Ferries, where the whale and dolphin-watching boats are available for private hire.
Water Activities /Gníomhaíochtaí Uisce - Cape Clear Island
Explore the Clear Waters of Cape Clear Island
For water lovers, Cape Clear Island has it all from SUP to kayaking enjoy the crystal-clear waters as you swim or snorkel on the fantastic Wild Atlantic Way.
With an abundance of marine life available on the shores of the island, it is the perfect place to go fishing or simply collect some shells.
It's a real children's playground with crab fishing fun to be had by all in the harbour.
Roaming around Cape Clear Island
Explore Cape Clear Island
For land lovers, a 45-minute bus tour around the island in Cape Clear's new electric buses – the only island off Ireland serviced by electric buses – is a great way to get an overview of the island.
If you prefer exploring on foot, the island boasts two great walking trails offering spectacular sea views from Cape Clear's southern cliffs. The Red Loop — Lúb an Ghleanna — is 6km and the Green Loop — Lúb na Cnoiciní — is 4km; both are popular with walkers, hikers, those on nature trails and bird watchers.
Both trails offer mostly off-road terrain covering the southern cliffs. Lúb an Ghleanna (the Red Loop) would suit those with moderate ability and has an elevation gain of 254m while Lúb na Cnoiciní (the Green Loop) is suitable for all skill levels and has an elevation gain of 163m.
Click below to see Cape Clear Island walking map.
Cape Clear Island Heritage
The heritage of Cape Clear Island is evident all around the island from the ancient standing stones and Dún an Óir Castle to a 12th century Church.
The ruins of an old lighthouse, which was originally build in 1818, can still be seen on Cape Clear Island. This was the area's original lighthouse until it was replaced by the Fastnet Rock lighthouse following the Whitney ship disaster in 1847, which resulted in the death of 92 passengers and crew. Next to the lighthouse is the Napoleonic look-out tower that last saw active service in World War II. 
The Marriage Stone, an ancient rock also known as a 'trysting stone' is among Cape Clear's biggest attractions – especially for the romantic! Many have exchanged wedding vows or popped the question at this special place.
Cape Clear Island Heritage Centre & Fastnet mulitmedia display, features an excellent 3D display on the Fastnet Rock Lighthouse. 
It also includes exhibitions and artefacts from the island as well as the O'Driscoll archive, which is available by appointment only. 
The centre is open daily from June to September and at other times by appointment.
Locally-produced artisanal products
Cape Clear Island Products - Táirgí Oileán Chléire
Cape Clear Island is home to a range of locally-produced artisanal products, including gin from Cape Clear Island Distillery, which is made with honeysuckle, fuchsia and kelp, harvested fresh on the island. 
Sample or buy goat's cheese and goat's milk ice cream from the Cape Clear Goat Farm, better known as Cléire Goats, a farm that is open for tours.
All these products – as well as a hosts of crafts and mementos — are available from the Cape Clear Tourist Office and Craft Shop, which is open during the summer season as well as during the Easter holidays. 
There are a number of quality meat producers on the island as you explore the Island you will see rare breads of goats, sheep, pigs and cattle enjoying a healthy outdoor lifestyle.  3SQ Miles Gin is produced on Cape Clear Island, made from local ingredients this is a lovely momento to pick up at the island gift and craft shop in North harbour and bring some of the island home with you. Mind the bees as they are busy harvesting from the island's abundance of wildflowers.
For more island specialities, the Cape Clear Farmers' Market operates on Sundays during the summer months. There is an array of natural island produced products such as honey, vegetables, bread, cakes, hand-made woollen clothes, pottery and jewellery..
Check out the Cape Clear Farmers' Market Facebook page for more details. 
Is fearr lán doirn de cheird ná lán mála d'ór" – A handful of skill is better than a bag of gold…
From storytelling to birdwatching
Cape Clear Island has it all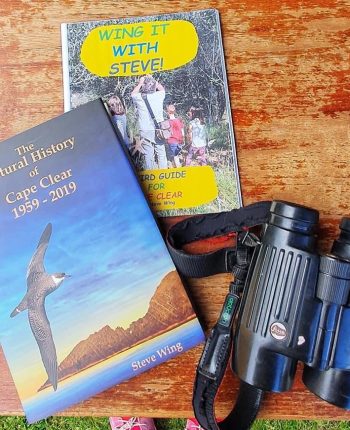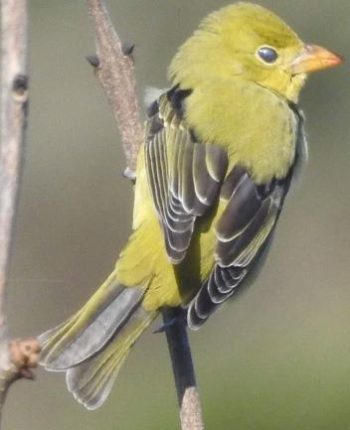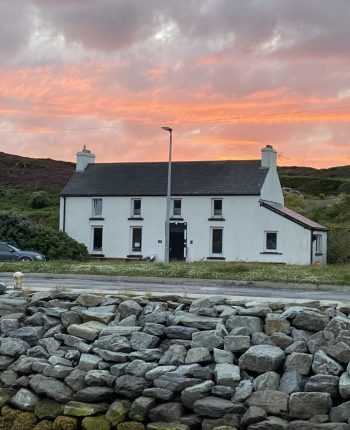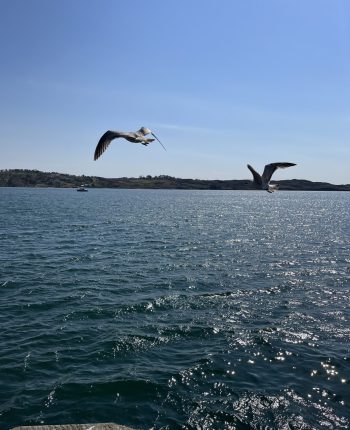 And for those who love a good story, the Cape Clear International Storytelling Festival is one of Ireland's premier storytelling events. Taking place during the first full weekend in September, it has been held every year since 1994 (virtually when Covid restrictions applied) to keep the Irish tradition of storytelling alive. The festival is held over three days, showcasing top class storytelling in an outstanding setting.
For twitchers – and others interested in bird watching – Cape Clear Island has a rich tradition of birdwatching as the island is on a bird migration path. Birdwatch Ireland operate a bird observatory on the island and run various bird watching courses during summer and autumn.
Cape Clear has a Bird Observatory and a bird warden which operates regular course and other activities.