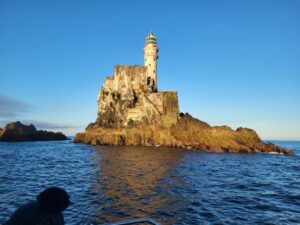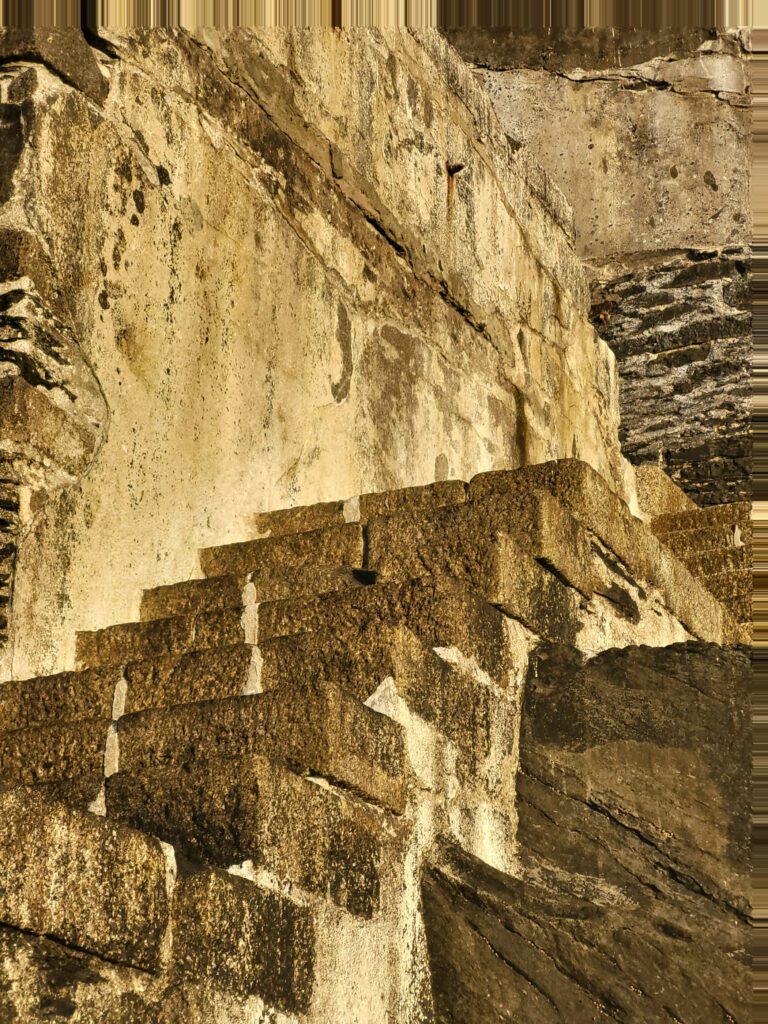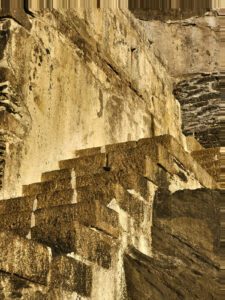 A Rare Opportunity to land on Fastnet

Last Summer's fine weather brought with it a rare  chance to land on the Fastnet Rock itself. Doing my best to overcome my fear of heights I managed to climb the steep steps seen in the photo. As I sat for a little while looking back at Cape Clear Island, an almost forgotten conversation came to mind.
A Half Forgotten Conversation
Because I remembered Michael John Cadogan of Cape Clear telling me about bringing coal to the Fastnet Rock in days gone by. But as I looked down at the steep and unguarded steps that I had just climbed I reasoned that I must have heard him wrong. For it seemed an impossible task. Surely no mortal men, let alone men that I know had carried bags of coal on their shoulders up those treacherous steps ? And so I decided to investigate the matter further, and to put this myth of mine  to rest.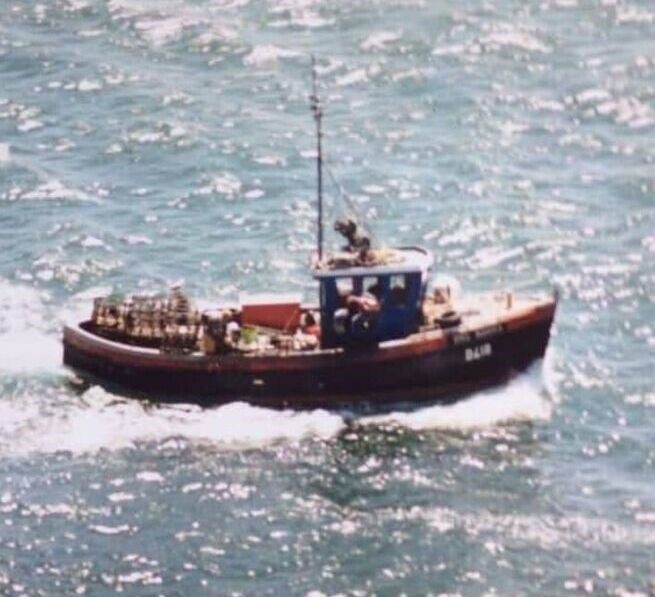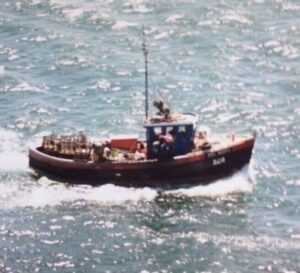 The Iron Men of Cape Clear Island
But it was no myth. Because back on Cape Clear I came across Sean (Loal) O'Driscoll and he remembers every detail of this arduous trade. For it was his family's boat, the Inis Barra that was used and he joined with his brothers Oilibhéar, Concubar and Pádaig (Loal Ó Drisceoil) .  Concubar went on to become the most famous of Island Ferry Skippers and Chieftian of the O'Driscoll Clan.  Others who took part included Seán Cadogan, Michael John Cadogan, ( Micheál Ó Ceadagáin), Carey Cadogan and Jim Mike O'Driscoll.
Because of the extreme volatility of sea, tide and weather conditions at the Fastnet the men had to wait for some extremely settled weather.  As soon as it arrived they set sail for Shull to load 7 tons of coal, usually at the crack of dawn. They needed to approach the Fastnet during a flood tide. This allowed them to tie a single line ashore from the stern while the tide itself would keep the boat off the treacherous rocks. The younger men would scramble ashore while the older ones, normally Carey Cadogan and Jim Mike stayed with Pádraig  to man the boat and load the bags.
An Arduous 99 Steps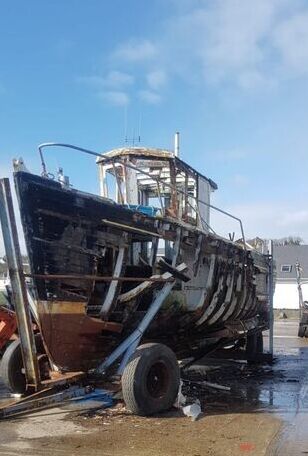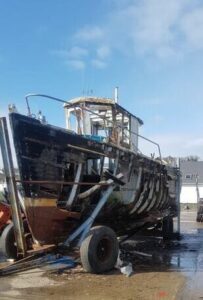 From there each bag was brought ashore by the derrick and onto the platform. That was the easy part. For then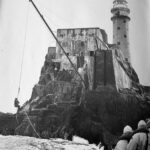 they were shouldered one by one up an incredible 99 unguarded steps to the  'New Tower' above. Sometimes as the day wore one there was nothing for but to split the bags as fatigue set in. But the 7 tons, always made it all the way to the top. Other times the weather deteriorated  and they had to use the same derrick with a bosun's chair to travel above the surly waves back to their boat.
Inis Barra
The Inis Barra was built in Baltimore. Her keel was long, having been originally intended for a 50ft vessel. But the order was cancelled and the now 35foot Inis Barra was bulit instead.  This made her a great sea boat. She served the O'Driscoll's very well and later found her way  as far as Donegal where she operated until recent years. Sadly the Inis Barra has reached the end of her days as this recent photo shows.
Eventide
Before the Inis Barra, this trade was carried on by the Eventide. But sin scéal eile, thats a story for another day.
And what of the Iron Men of Cape Clear ?
While some are no longer with us, others are going strong.  May we wish all the remaining Iron Men,seen below, of the Fastnet Coal Trade sincere seasonal  greetings.  They are greatly appreciated by their families and communities and may they be awarded some extra warm hugs this year.
Cléire abú. Scoil Mhuire Abú. Carraig Aonair abú.